PAINTINGS
Many people will paint their structures in the hemostat, especially on the homes. There are random things that are painted on the side of buildings. A village scene is not uncommon. In a fishing area, a fish may be painted on the side. Or if near animals, a lion or giraffe, etc. could be applied. The family's name or a bible quote is not uncommon. Geometric patterns are probably the most common.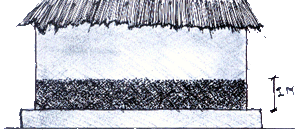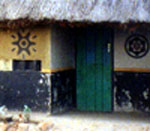 Though researched and asked while on data collecting trips- no reason could be given for possible symbolic significance. Most people claimed that was what their ancestors done.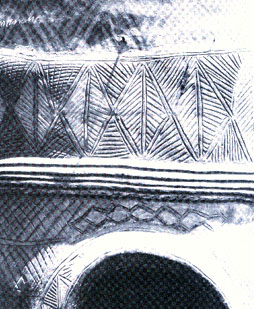 For example; in Burkina Faso, the etched motif of the Kassena, is called "neck of the dove". It also has references to teeth and entering the doorway is symbolic of entering the mouth into the body.
It seemed common, all across the country, that the first meter would be painted. The color was commonly black but other colors were used.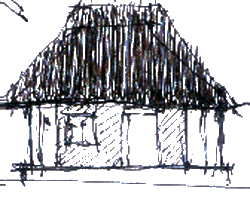 Color Schemes:
Colors are dependent by soil type; the mixture and type of clay. The color range is a very earthy one and includes, browns, tans, reds, and oranges. Other colors are black, white and gray.
Reds
Grays
Oranges
Browns
Example of a house:
This individual in Kalomo village painted all four sides of his home with images of animals. The house is near to Kafue Park, where elephants, lion, giraffes, rhinos, and buffalo can all be found.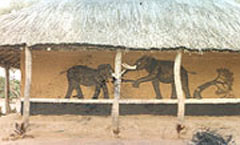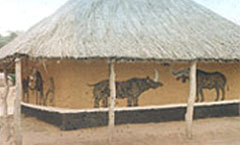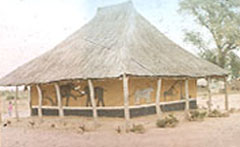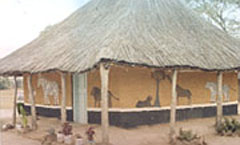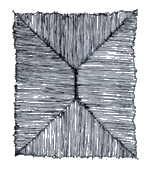 Northwest Elevation
Northeast Elevation
Southwest Elevation
West Elevation
West
East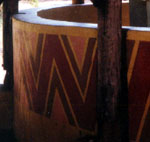 North
South



Very common paintings:
Plants
Names
Biblical quotes
Straight
Rectangular
Triangular
Wavy
Geometric Patterns
Animals






















Kalomo village